Sunday School Classes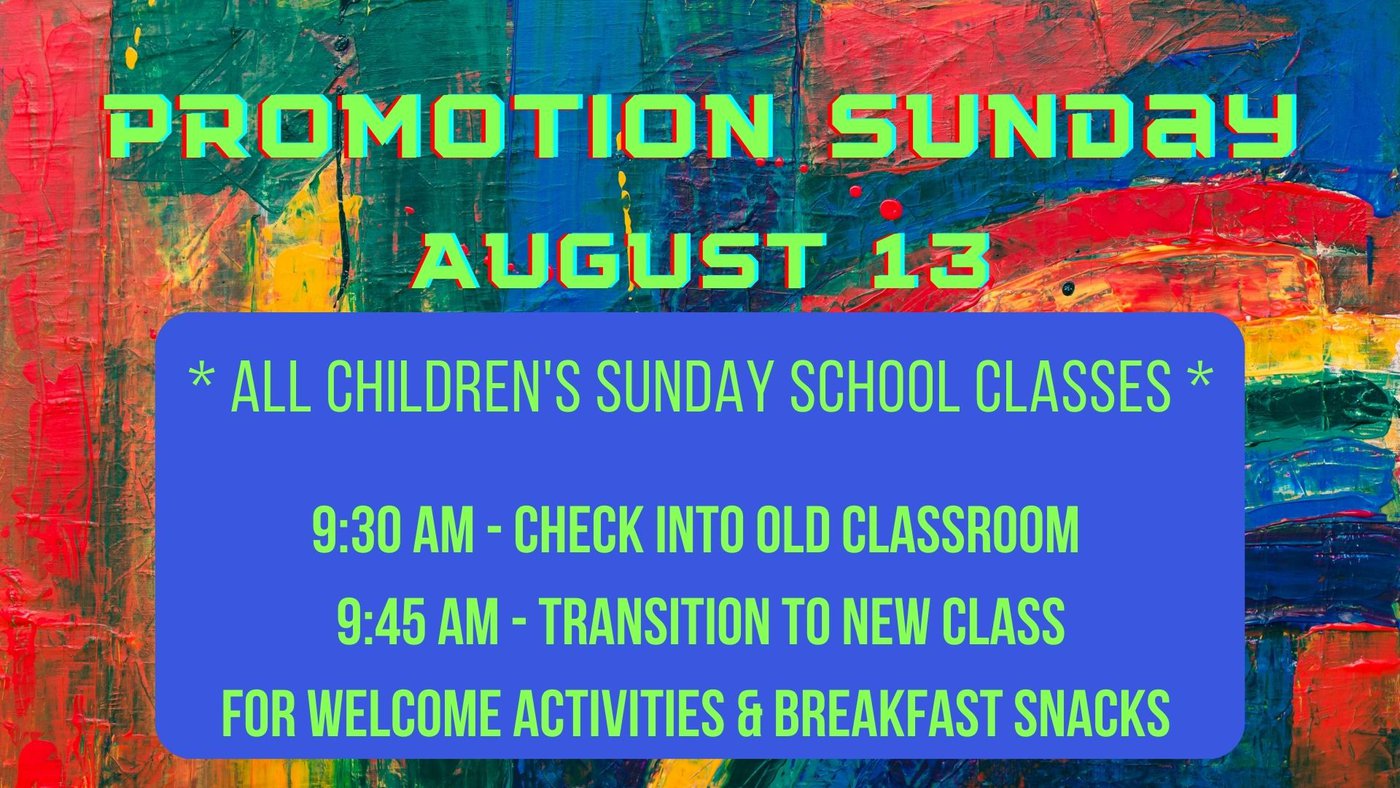 Sunday Morning - 9:30 - 10:30 a.m.
Join a Sunday School class to study the Bible and grow in relationship and accountability with one another. If a special need in life arises (illness, worry, death in family), support often comes from those whom you have developed relationships through time spent together in Bible Study and Fellowship.
Bible Babies: Birth - 2 years old
Truth Toddlers: 2 - 3 year olds
Teacher - Christi Twilligear
Kings Kids: 4 - 5 year olds
Teacher - Terri Hoffman
J.A.M. (Jesus And Me): 1st, 2nd, and 3rd Graders
Teacher - Jo Ham
B.L.A.S.T (Believe Learn And Seek Truth): 4th, 5th and 6th Graders
Teachers - Rosalinda & Marty deLeon
Youth: 7th -12th Graders
Teachers - Katie & Rob Hays
Mosaic Life Group: 18 - 118 year olds
Teachers - Elizabeth & Harry Brandt and Evelyn & John McAnelly
This class offers multi-generational perspective and input as they dive into the truth of God's Word each week. As long as you fall within the age range of 18 to 118, you will fit right in and enjoy building relationships and participating in lively and challenging discussion.
Core Collaborative: 20s & 30s
Teacher - Mark Sudolcan
You can expect this class of mostly Millennials (and a few Gen Z's) to start a little late and possibly get a little rowdy. This group loves to study the Bible together and also do life together outside of the church walls.
Trail Blazers: 30s & 40s
Teacher - Danny Kindred
Most of the folks in this class are at a stage of life that is pretty full of family and school activities. If you join this class you'll have the privilege of gleaning wisdom from one anothers' life experiences and that of your leaders, Danny Kindred and Brett Williams. You can expect deep and enriching lessons and thought provoking discussion.
Devoted Disciples: 40s & 50s
Teacher - Clay Bell
Members of this class may be in the throws of raising junior high and high school kids or possibly beginning to see the parenting stage of life come to a close and grand-parenting begin. Leaders of this class, have already walked that road and are eager to share their life-lessons. Many members of this class are very involved in serving at FBC Hondo in various areas.
Faithful Followers I & II: 50s & Above
Teachers - Ken Weynand & Don Abbott
This vibrant class of Empty-Nesters enjoys studying together and volunteering together. Some in these groups have retired from their second careers and are very active in areas of ministry at FBC Hondo and the community. Expect great bible study and fellowship with the many members of these classes.
Weekday Men's Bible Study Groups
Each week men meet in Reid Hall for Bible study, prayer and fellowship on 2 separate occasions.
Choose which time works best for your schedule and come join us..
Monday Morning - 6:30 - 7:30 a.m.
Monday Evening - 6:30 - 8:00 p.m.
Need more info about these groups? Contact Dwayne Haynie at 210-315-0025.